Duha Principal Andy Ellis is represented by Leading Authorities, and may be the perfect addition to your next organizational meeting or conference with his signature humor and relatability. He will share his expert insights on leadership, internet safety, risk management, decision making, and security governance.  He can be booked directly through Leading Authorities in standalone engagements, or contact us to pair his talks with additional Duha services.
Everyone is a Leader
Leadership isn't doing one thing well.  It's doing a thousand things 1% better.  Whether you're a CEO, just starting in your career, or organizing a community, this talk will highlight ways that you can develop and improve as a leader.  
Designed to accompany Andy's practical guide (1% Leadership, by Hachette Go), this talk will help anyone – and everyone – improve.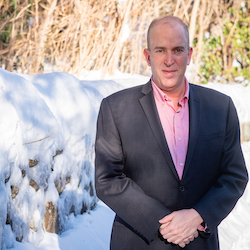 The CSO's Journey
This retrospective look at Andy's career arc is filled with stories and lessons that will apply to all stages of the audience's own career journeys.

Decision Making
Discover how humans are truly excellent at decision making, and understand how to improve the decisions you and your organization make.
Security's Grand Challenges
Looking back at the last 30 years of security challenges, Andy shares how they've changed, how they haven't, and suggests some priorities for the future.
Leading to Representation
Explore the path that Andy Ellis used in leading gender representation on his security team to 40% women. 
Risk Management
Learn how to think about risk from multiple perspectives in this insightful talk covering the gamut of business and cyber risk.